There are four options to obtain replacement parts:
Directly through us, the first replacement part is free, you are just responsible for the shipping+handling charge to your residence. You can place your order for the part(s) through our website. The free replacement part (limit 1 per part) will appear once you add the item into the shopping cart. Due to new remote seller sales tax laws, we are no longer able to process orders to Illinois, Louisiana,  Maryland, Minnesota, Nevada, New Jersey, North Carolina, Ohio & Utah. Please use one of the other options provided below.
To locate parts you can either click on "Parts" under Categories on the left hand side of the page, and follow the headings to the parts list.
-or-
Find the product that you need parts for, and then click the "Click here to view parts" link at the end of the product description. This brings up a listing of replacement parts for the item selected. Add the appropriate parts you need to your shopping cart, and you can checkout with a credit card.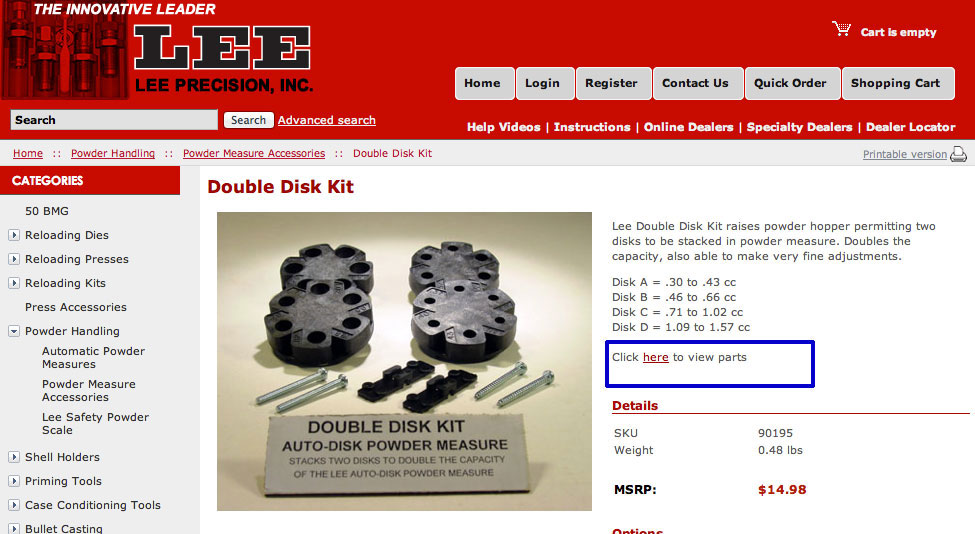 -or-
Mail the part in to the factory at the address below for a no charge replacement.
Lee Precision
4275 County Road U
Hartford, WI 53027
-or-
Purchase parts through our eBay store: https://www.ebay.com/usr/lpi1958?_trksid=p2047675.l2559 If the part you are looking for is not listed, contact us here and we will list it for you.
-or-
Visit one of your favorite online Distributors. MidwayUSA, FS Reloading, Titan Reloading, and Graf & Sons stock our service parts. https://support.leeprecision.net/en/knowledgebase/article/online-lee-distributors