The distributor featured below offers Lee products at competitive prices. Lee Precision has no control over their sales polices. All, warranty, return privileges, shipping and payment requirements are at the discretion of the merchant. You can go to each distributor's website by clicking on their logo.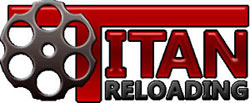 Lee Master Distributor, carrying the full line of Lee Precision products, offering a reliable product at affordable prices. Located 3 miles from the Lee facility, we also offer quick service and support, second to none. Titan Reloading, your
Silver Bullet
in Lee Precision reloading equipment.
Titan Reloading

994 W. Sumner St.
Hartford, WI 53027
262-397-8819
www.titanreloading.com